DMCA Sans Serif 9.0-20252 Font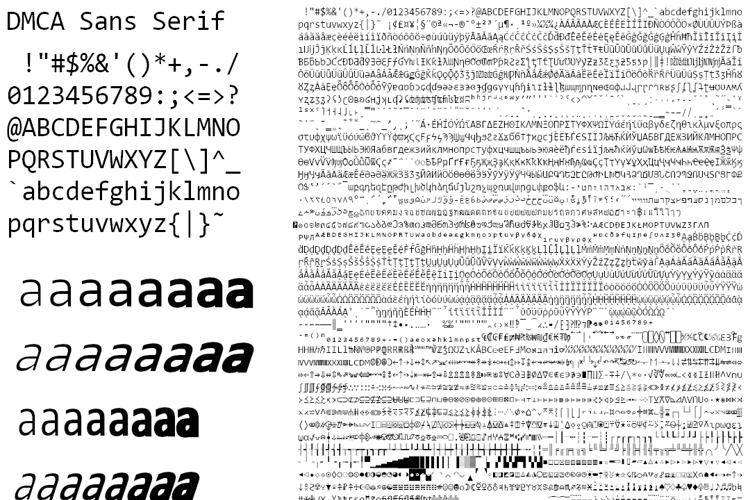 40 font family styles
Thin Style

truetype
3127 glyphs
3374 characters
Extralight Style

truetype
3132 glyphs
3374 characters
Light Style

truetype
3131 glyphs
3374 characters
Regular Style

truetype
3130 glyphs
3374 characters
Semibold Style

truetype
3137 glyphs
3374 characters
Bold Style

truetype
3134 glyphs
3374 characters
Extrabold Style

truetype
3133 glyphs
3374 characters
Black Style

truetype
3137 glyphs
3374 characters
Thin Italic Style

truetype
3130 glyphs
3374 characters
Extralight Italic Style

truetype
3132 glyphs
3374 characters
Light Italic Style

truetype
3135 glyphs
3374 characters
Italic Style

truetype
3123 glyphs
3374 characters
Semibold Italic Style

truetype
3140 glyphs
3374 characters
Bold Italic Style

truetype
3130 glyphs
3374 characters
Extrabold Italic Style

truetype
3135 glyphs
3374 characters
Black Italic Style

truetype
3137 glyphs
3374 characters
DMCA Sans Serif Condensed Thin Style

truetype
3134 glyphs
3374 characters
DMCA Sans Serif Condensed Extralight Style

truetype
3137 glyphs
3374 characters
DMCA Sans Serif Condensed Light Style

truetype
3137 glyphs
3374 characters
DMCA Sans Serif Condensed Style

truetype
3133 glyphs
3374 characters
DMCA Sans Serif Condensed Semibold Style

truetype
3133 glyphs
3374 characters
DMCA Sans Serif Condensed Bold Style

truetype
3140 glyphs
3374 characters
DMCA Sans Serif Condensed Extrabold Style

truetype
3128 glyphs
3374 characters
DMCA Sans Serif Condensed Black Style

truetype
3129 glyphs
3374 characters
DMCA Sans Serif Condensed Thin Italic Style

truetype
3134 glyphs
3374 characters
DMCA Sans Serif Condensed Extralight Italic Style

truetype
3141 glyphs
3374 characters
DMCA Sans Serif Condensed Light Italic Style

truetype
3132 glyphs
3374 characters
DMCA Sans Serif Condensed Italic Style

truetype
3133 glyphs
3374 characters
DMCA Sans Serif Condensed Semibold Italic Style

truetype
3133 glyphs
3374 characters
DMCA Sans Serif Condensed Bold Italic Style

truetype
3142 glyphs
3374 characters
DMCA Sans Serif Condensed Extrabold Italic Style

truetype
3131 glyphs
3374 characters
DMCA Sans Serif Condensed Black Italic Style

truetype
3130 glyphs
3374 characters
Tahoma Style

truetype
3130 glyphs
3374 characters
Tahoma Italic Style

truetype
3123 glyphs
3374 characters
Tahoma Bold Style

truetype
3134 glyphs
3374 characters
Tahoma Bold Italic Style

truetype
3130 glyphs
3374 characters
Arial Style

truetype
3130 glyphs
3374 characters
Arial Italic Style

truetype
3123 glyphs
3374 characters
Arial Bold Style

truetype
3134 glyphs
3374 characters
Arial Bold Italic Style

truetype
3130 glyphs
3374 characters
About DMCA Sans Serif 9.0-20252 Font
https://typedesigndead.coosucks.repl.co/

This is a public domain font that is metric-compatible with Microsoft's Consolas. It has 3309 characters and 32 styles. It is intended as a general-purpose sans-serif font, and it's monospaced. It is suitable for programming purposes although it's not designed for that purpose. It is NOT suitable for terminal/commandprompt environments as it's not a bitmap font.

Also, despite the thumbnails, this does not contain actual Arial or Tahoma fonts inside. Those files are copies of DMCA Sans Serif but with the font name set to Arial or Tahoma. Those are for compatibility reasons: in a Microsoft Windows environment with DMCA Sans Serif being the only font installed, one application (FontForge) would glitch out due to Tahoma being missing, while another application (offline Scratch 3.0) would glitch out due to Arial being missing, if not for the Arial and Tahoma font fakes.
Related Styles
Comments