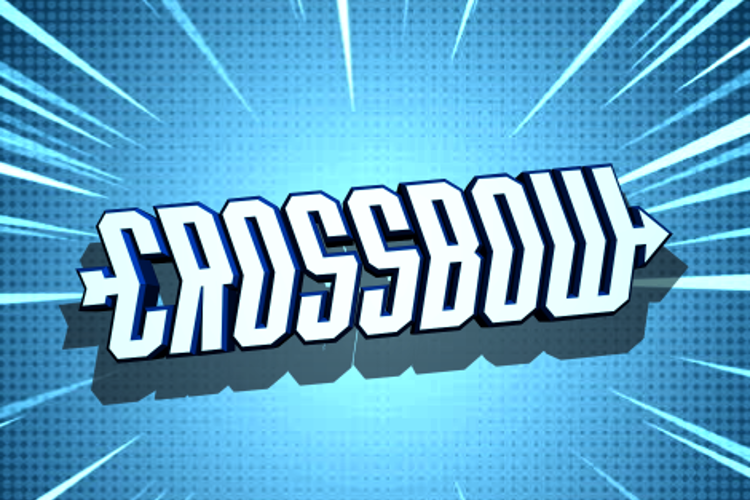 30 font family styles
Regular Style

postscript
209 glyphs
219 characters
Crossbow Shaft Italic Style

postscript
209 glyphs
219 characters
Crossbow Shaft Leftalic Style

postscript
209 glyphs
219 characters
Crossbow Shaft Expanded Style

postscript
209 glyphs
219 characters
Crossbow Shaft Expanded Italic Style

postscript
209 glyphs
219 characters
Crossbow Shaft Expanded Leftal Style

postscript
209 glyphs
219 characters
Crossbow Shaft Halftone Style

postscript
209 glyphs
219 characters
Crossbow Shaft Halftone Italic Style

postscript
209 glyphs
219 characters
Crossbow Shaft Halftone Leftal Style

postscript
209 glyphs
219 characters
Crossbow Shaft Expanded Half Style

postscript
209 glyphs
219 characters
Crossbow Shaft 3D Style

postscript
209 glyphs
219 characters
Crossbow Shaft 3D Italic Style

postscript
209 glyphs
219 characters
Crossbow Shaft 3D Leftalic Style

postscript
209 glyphs
219 characters
Crossbow Shaft Expanded 3D Style

postscript
209 glyphs
219 characters
Crossbow Shaft Gradient Style

postscript
209 glyphs
219 characters
Crossbow Head Style

postscript
209 glyphs
219 characters
Italic Regular Style

postscript
209 glyphs
219 characters
Leftalic Regular Style

postscript
209 glyphs
219 characters
Expanded Regular Style

postscript
209 glyphs
219 characters
Expanded Italic Regular Style

postscript
209 glyphs
219 characters
Expanded Leftal Regular Style

postscript
209 glyphs
219 characters
Halftone Regular Style

postscript
209 glyphs
219 characters
Halftone Italic Regular Style

postscript
209 glyphs
219 characters
Halftone Leftal Regular Style

postscript
209 glyphs
219 characters
Expanded Half Regular Style

postscript
209 glyphs
219 characters
3D Regular Style

postscript
209 glyphs
219 characters
3D Italic Regular Style

postscript
209 glyphs
219 characters
3D Leftalic Regular Style

postscript
209 glyphs
219 characters
Expanded 3D Regular Style

postscript
209 glyphs
219 characters
Gradient Regular Style

postscript
209 glyphs
219 characters
About Crossbow Head Font
For information on commercial use, please visit www.iconian.com/commercial.html

This font has special characters to add an arrow shaft and an arrowhead to letters to make text or a word look like an arrow is going through it from left to right. While there are 30 fonts files in the ZIP package, there are really only 15 versions based on two base fonts, Crossbow Shaft and Crossbow Head. Users can either (1) use just the Crossbow Shaft or Crossbow Head font and access all of the characters using a character map or (2) use both of the base fonts to get the same text effect by switching between the capital letters of each base font. Please be sure to read the text file included for more information on how to use this font.
Commercial licenses
There are no commercial license purchase options. Contact the designer.
Related Styles
Comments